Business vs. First class airplane cabin
You will always have a variety of options whenever you decide to travel by air – you can do it first class, business class, premium economy or just in economy class. It all depends of you resources, special needs as well as your preferred level of comfort. Of course comfort plays a significant role in your overall travel experience, especially when you are travelling internationally. While there are no specific rules as to how airlines should treat their passengers flying in different cabins, it is paramount that you always get value for your money. When selecting a cabin you should definitely consider quality of seats on the plane, as well as services offered during a flight. Although it is important to have fun even on a short trip, comfort and quality are serious considerations for long-haul trips, especially international.
The seat configurations, legroom and reclining often differ from one airline to another, and the prices are subject to the routes and sometimes the day of the week. Call us at 1-877-333-2803 to find out what cabin options are available for your next flight!
International first class cabin: this is the most comfortable cabin by all standards, and airlines give it due consideration, especially given it is a prime source of returns for them. In light of this, the competition is very rigid across the top airlines, in an effort to beat each other in the amount of luxury services they provide to their first class passengers. Of course, competition is always a win for a customer because in most cases that means lower prices, better quality and quantity of premier services they can get in return for their loyalty. Such services range from not only comfort and extremely nice and helpful flight attendants but also include offering guests complimentary finest wine and Champagne like Crystal and Dom Perignon, exquisite meals, luxury toilettes, personal vanity stations, private suits, personal suits, complementary manicure services during the flight, and many other things you never thought are possible on a plane. See what individual airlines offer to their first class passengers here. All you need is to stretch your bed which is done with just a touch of a button, and enjoy all these amazing services that will make your international flight seem much shorter than it feels when you travel in an economy class. In addition to everything offered on the plane, airlines go above and beyond to win customers loyalty, making passengers' layovers between the flights a great experience. See our list of the best airline lounges around the world.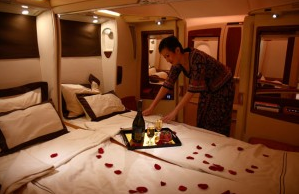 Domestic first class cabin: You will always know when you set your foot in the domestic first class cabin. Compared to its economy counterpart, there is more than enough space for you to stretch your feet and relax, individual power outlets, personal television screens, amenity kits, top shelf alcohol selection, pillows and blankets, and unlimited flight attendants attention. On most of the airlines, you will find seats configured in 2s for a total of 4 in one row, while the economy cabin is often configured in 3s (total of 6 in one row) or in 3s and 2s (to make 5 in one row) across the plane. The other notable difference is in the manner in which meals and drinks are offered. On some airlines first and business class passengers are offered a menu to choose from. First class passengers receive wholesome hot meals and free drinks, while economy class passengers only get snacks (pretzels, cookies, etc.) and soft drinks and have to purchase all meals and alcohol beverages. The last difference, but not the least, is the quality of service and the number of flight attendants per passenger in first class cabin vs. the economy class.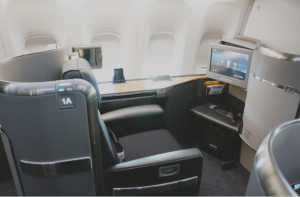 International business class cabin fares are obviously less than those in the first class, but so are the meals and other services in general. Prices running about 1.5 – 2 times lower than first class, business class cabin definitely offers value for its money. Thanks to the advancements in technology and high competition rates among airlines, differences might not be as significant as they used to be. As a matter of fact, the competition among the airlines is so loud in terms of service delivery that the international business class oftentimes outdoes the domestic first class! Every year we see multiple articles and television ads showing how much more exotic airline companies go in providing business class seats and services, especially on the long-haul international flights. Nowadays, you can get a wider and more private seat, a full flat bed, personal screen, top shelf beverages, luxury toilettes, and many other perks as part of your package when you are travelling business class internationally. Of course, when deciding between international business or economy class are drastic and the experiences passengers get in different cabins could be extremely important during long flights and could make a significant impact on your overall vacation or business trip.