Airport Lounges That Make Your Layover A Heavenly Experience
Oftentimes, layovers are inevitable. To many people an upcoming layover fells like a nightmare, especially when the airport is not really convenient and does not provide any special amenities or services. Some of inconveniences that people face could be a never-ending search for an electric outlet to charge a phone or a computer, the unavailability of space to set your bags down or just simply take a short nap, and of course the boredom that makes time flow slower than ever.
Of course, if you are traveling business or first class, you can avoid these unpleasant experiences. Nowadays, all established airlines offer their passengers an opportunity to spend their long layover in a luxurious atmosphere of an airline lounge. From a long list of airline lounges around the world BookItBusiness selected a list of some amazing places that can pamper you more than you can imagine, and here are the top ten of them.
1. The VIP hideout
Premium Terminal of Qatar Airlines
Doha International Airport in Qatar
This lounge is perfect for businessmen and elites. The lounge offers a comfortable resting area with blankets and pillows provided, a nursery for kids with a playroom equipped with Sony PlayStations, as well as a conference center for business meetings and a 24-hour clinic. Snacks, food and drinks are always available whenever and however the passengers want it. The chefs are eager to make passengers happy and satisfied, creating wonders at hot and cold buffets, deserts bar and a sushi bar. The spa and shower room are also open for relaxation and refreshment, and massage chairs are available for visitors to rest and get their body massaged after a long flight. There is also no need to constantly check time and worry about the schedule of your connecting flight, as a courteous staff will do the job for you and will notify the passenger when it's time to proceed to the gate.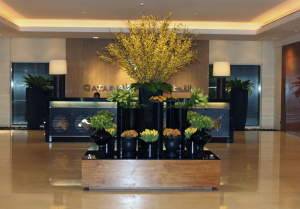 2. The booze zone
Virgin Atlantic Clubhouse
John F. Kennedy International Airport, USA
JFK Virgin Atlantic Clubhouse lounge is a perfect place for everyone who loves funky, stylish and luxurious places. Besides its unique mix of Virgin style and true New York feel, this chic lounge offers gourmet fine dining and crafty cocktails. This place is perfect for those who start celebrating their vacation, or ending the vacation and need to cure a long-lasting hangover. The lounge team is very accommodating and friendly. The bar offers a of variety champagne, wine and cocktails. To add to their wide selection of alcoholic beverages, are their very own Virgin Rose and Big Virgin Apple. The Clubhouse Spa is also worth noting with its services ranging from facial treatments to massage and to hairstyling.

3. Anti-hunger lounge
Finnair Lounge
Helsinki Airport, Finland
Travelling can be hunger inducing for some passengers. Lucky are those who would have a layover in Finnair Lounge in Helsinki. An unlimited free buffet is their best attraction along with their classy Finnish interior design. The lounge engaged a famous designer to create a perfect lighting condition that makes a peaceful atmosphere, perfect for travelers who want to rest. For those who want to get a 100% out of their stay in Finland (even if it's only for a short period of time during a layover), the lounge offers a spa equipped with a Finnish sauna and showers. Worthy to note that the lounge has been awarded with Best Business Facilities award in 2011 and with the Highly Commended award in 2012.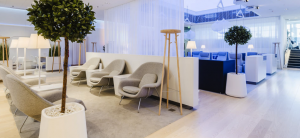 4.The Shopaholics' haven
The Concorde Room of British Airways
Terminal 5 of Heathrow Airport in London
The British Airways lounge in Heathrow is a vast collection of high-end designer stores. Heathrow is known as the go-to airport for shopaholics because of its vast collection of high-end designer stores. If you happened to have a layover in London, shopping is the best option to kill time. After swiping your credit cards and abusing your wallet, it is now time to relax and reenergize in a luxurious British Airways Concorde Room lounge that offers fine dining area with superb wait service and traditional English Afternoon Tea. The passengers also have an option to enjoy complimentary fine wines or Champaign on the outside balcony that has a breathtaking view of taking off and landing planes, take advantage of Elemis spa, relax in a private cabana, or hang out in the entertainment zone equipped with a 20 seat cinema to watch a movie or cheer for your favorite sports team.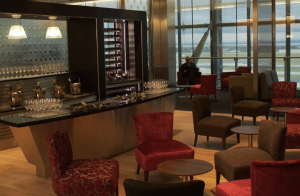 5. The playground
First Class Lounge of Etihad's Diamond
Terminal 3 of Abu Dhabi International Airport in UAE
Traveling may be exhausting for adults, but for some kids this is time to play and have fun. In Etihad's airport lounge, kids have a huge playground to play at with nannies ready to look after them and keep them busy while their parents enjoy luxury amenities of the lounge. While children are having fun, their parents will have an opportunity to enjoy an exquisite a la carte meal ranging from Western to Asian cuisines. With enough time, adults can also savor the relaxing offers of spa services in 15 minutes increments, as well as refresh in a shower while their clothes is being ironed and shoes polished, or have a indulge themselves a Cuban cigar that goes well with a top-shelf cognac.

6. The Glass Lounge
The Pier Hong Kong
Gates 62–66 of Northwest Concourse in Hong Kong International Airport, China.
This lounge opened in 2008, and yet continues to amaze. Its floor to ceiling glass walls offer passengers a better view of the airport. The lounge also has modern private rooms equipped with showers that can be reserved in advance, as well as a spa and a concierge ready to assist every passenger. The dining area has intimate cubicles to enjoy a fine and at the same time private dining experience. Besides the glass walls, this lounge is also famous for its outstanding Japanese noodle bar.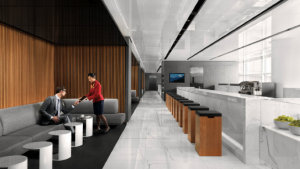 7. A greener layover
First Class Lounge of Qantas
International Terminal of Sydney Airport in Australia.
We named this lounge a Greener Layover because it literally has a garden wall with real plants and flowers right inside it. It showcases a clash of modern and nature interior design, creating an unforgettable relaxing experience before a long flight overseas. The modern restaurants have an open design so passengers have a view of chefs creating their delicious meals. The Payot's complimentary spa services that last from 30 to 50 minutes are also a great way to kill time between flights. The staff is very warm and friendly, always wearing the genuine Aussie smile to greet and welcome clients.
8. The rubber duck distributor
First Class Lounge of Lufthansa
Terminal 1 of Frankfurt Airport in Germany
This lounge is one worth remembering. As a signature feature, Lufthansa lounge in Frankfurt offers passengers an pleasure of soaking in a bathtub with a rubber duck toy for those who want to freshen up in between the flights. The toy can be taken home as a souvenir, but it does not end there – the lounge has a terminal on its own that offers valet parking, a cigar lounge and private sleeping rooms. Passengers are served a broad variety of fine wine and malts at the bar. The best thing in this lounge is that they have very comfortable cushioned chairs, with an adjustable back, to guarantee the best layover rest. To top the ultimate experience, Lufthansa provides all first class flyers with a royal treatment of a limo taking flyers directly to their planes.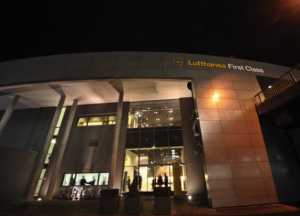 9. The jack of all trades
Changi International Airport
Changi International Airport at Singapore
This is a lounge that can amuse everybody and anybody with its playgrounds for children, a four-story amusement park slide, rooftop pools, free wi-fi access, large flat screen TVs, comfortable couches and first class movie theatre. The facilities are also equipped with an outstanding advanced technology. Furthermore, flyers can enjoy six pay-per-use luxurious nap lounges that strike with their elegance and various features that provide the best comfort.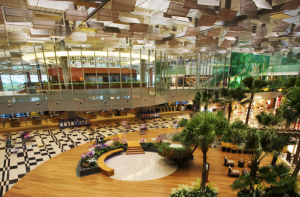 10. The French Chic
La Premiere Lounge of Air France
Terminal 2E of Paris Charles de Gaulle Airport in France.
The lounge itself is astonishing and the services are spectacular. The interior design of the lounge is very simple, elegant and calming, not to mention that the rest area has very comfortable and luxurious daybeds, and the shower rooms are private and spacious. When it comes to food, no words can describe the heavenly taste and appearance. The wide selection of fine wines and beverages is first class. And no one can ever resist the indulging spa services. However, what rises above all is the royalty treatment provided by the lounge staff that takes care of your needs and concerns before you can ask. This lounge is where dreams come true.