Barcelona is a place that makes any weary business traveler happy. The city is chock-a-block with seaside cafes, diversity, color and convenience.It's Spain's second biggest city, but it's Madrid's biggest competition when you consider Barcelona's ability to bring in commerce and conferences. Ever since Barcelona graciously hosted the 1992 Summer Olympic Games in 1992, the city has been an economic powerhouse.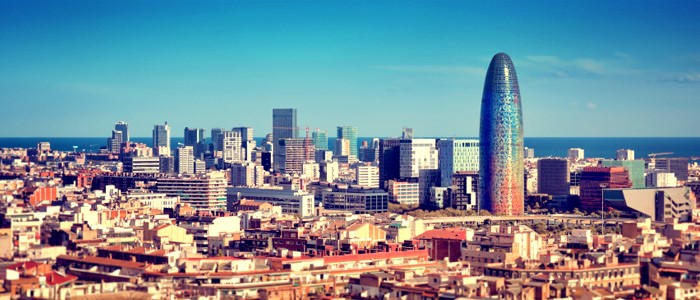 Without a doubt Spain attracts millions of foreigners every year seeking to get away from the grey skies, rain puddles and heaps of snow. Business investors have put their money in Barcelona to develop a distant and dynamic hotel setting, building new and interesting properties and renovating many of the city's classic architecture. Those who visit Barcelona on business have a list of things to do when they are not in board meetings and conventions. The city has a remarkable reputation for being the best place for epic shopping experiences, from shopping centers to local and tradition open markets. A visit to La Boqueria is a must to get a glimpse at the array of fresh produce available and grab a bite to eat. Barcelona's Catalonian food can't be missed and you'll soon realize that the region has a love affair with seafood, whether it be in paella, fried calamari rings and grilled king prawns.
A lot of Port Olympic's laidback seafront cafes offer seafood with a glorious view to boot. These cafes also offer a great place to hang out with work colleagues after the deals have all been set and done, let your hair done and dive into a plate of tapas, sip on sangria, people watch and admire the sunset.
Barcelona is a Cataluña region and even though Castillian Spanish is widely spoken, do make an effort to learn a few key words in Catalan. Catalan is the primary language spoken in Barcelona and is a great way to impress your Catalonian hosts and/or colleagues.
When you find yourself off the clock, make your way down to Figueres, where Salvador Dali built a theatre museum of his works of art. A 90 minute train trip from Barcelona to Figueres stops you within walking distance of this extravagant building with huge eggs bordering the roof.  You can spend a day interpreting Dalli's art, one of Catalan's many talented artists.
Barcelona has a modern and efficient airport terminal that's only seven miles away from the central business district and is conveniently connected to the city through rapid rail. There are a few direct flights to Spain from the US that help you avoid a London stopover.
Finding last minute business class flights to Barcelona isn't an issue since, many conventions take place in Barcelona. The city's new International Convention Center attracts more attendees every year, bringing the cheapest business flights to Barcelona. Go to Bookitbusiness.com to get the cheapest business class flights on the market.