Milan
Milan is the capital of Lombardy and the second most influential city in Italy when it comes to population, political influence and cultural as well as artistic aspects. Milan is Italy's most important economic, industrial and commercial center.
Milan doesn't waste time and rest on its laurels when it comes to business. Nowadays the city is geared towards fashion and finance, whereas in the past it was industrial development, trade and banking. A majority of Italy's well-known companies are headquartered in and around Milan. The city is aligned with smart avenues with luxury boutiques, is home to a masterpiece of Gothic architecture, the Duomo (cathedral), and has great art galleries within energetic, bustling surroundings.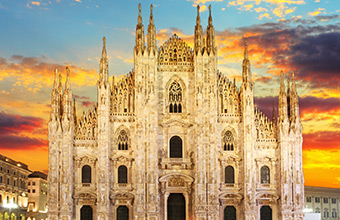 Milan is popular for trade fair events, the largest one is usually held mid-April and it's dedicated to furniture, lighting and décor. In 2015, Milan is the host of Expo, a wide-ranging exhibition where more than 140 countries participant to display technology related to the year's theme, food. The Prada Foundation opened a new art complex. The building is a converted 120,000 square foot distillery designed by architect Rem Koolhaas. The complex's purpose is to increase Milan's presence in the contemporary art scene.
It's easy to navigate on foot in Milan; but if walking isn't an option, Milan has an efficient subway, bus, tram and trolley service. Business travellers using the metro can avail themselves to a one or two day travel card for €3 or €5.50. The metro system is made of three color coded train lines, red, green and yellow, also referred to Linea 1, 2, 3. If you want to travel in Milan above ground, than a ride on one of the vintage 1920 trams is a good option. You can get your hands on a €20 a day pass on the corner of Via Marconi and Piazza Duomo. Taxis are available in Milan, they are white and it's not customary to hail for one in Milan, or in the rest of Italy as a matter of fact. You have to get to a taxi rank or call for one (02 4040).
Hotel Principe di Savoia Milano or the Four Seasons Hotel Milano are great hotels for business travellers. They offer conference and meeting rooms and come complete with high tech equipment, including fast access Internet. During your downtime you can spend it at the fitness center, spa or ask the hotel concierge to book a golf outing at one of the nearby courses. If you start to get peckish, Milan, like most of Italy won't disappoint you. Milan specializes in northern Italian cuisine such as risotto, osso buco and veal Milanese. Remember to order an excellent bottle of Italian red wine to wash all of it down.
Cheap flights to Milan from the US are easier to come by compared to other European cities. BookItBusiness can help you arrange last minute business class flights to Milan without any unnecessary hassles.