Moscow
So you've booked your business class flights to Moscow and want to know what to do after the meetings and conference calls are done. It's a classical city with its history, art and culture of the Romanovs, Leo Tolstoy, ballet impresario Sergei Diaghilev and cellist Mstislav Rostropovich.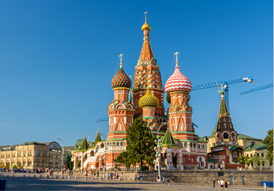 Most visitors to Moscow have the Red Square, St Basil's Cathedral and the Kremlinon the top of their itinerary. However, Moscow has a lot more to do, so you get a better understanding what the city is all about.
If shopping is your sport of choice, you should head over to GUM (pronounced goom) and TSUM (pronounced tsoom). They are the largest and the most extravagant shopping malls in Moscow. GUM is in front of the Red Square and TSUM is across the street, opposite Karl Marx Place. However, if you value your pennies, you won't buy much here. These shopping malls were built for oligarchs rather than for just common, middle class people. Although do make it a point to stop at GUM and TSUM to stroll and admire the vast, architecturally stunning interiors and brand name luxury shops such as Burberry, DKNY, Max Mara and Gucci. End your window shopping efforts at Café Tsum, on the fourth floor and just relax surrounded by grandeur and splendour. If you are planning to get here by metro, take the red line to Okhotny Ryad or the green line to Teatralnaya.
Moscow has many high luxury boutique hotels, but at big prices. If you want to money and still be conveniently located in the city center, use your loyalty points at international hotel chains such as the Hyatt, Marriott, InterContinental and Radisson. If you happen to be staying at the Ritz hotel, make sure to visit O2 Lounge where you can eat sushi that's priced exorbitantly and wash it down with Champagne. It's the place to go to feel sexy, rich and important as well as to admire the best views of Moscow.
Moscow specializes in Georgian food, a much cherished cuisine during the Soviet Union and is still popular in Moscow today. A local chain called Café Khachapuri specializes in several varieties of khachapuri, which is a traditional bread filled with melted Georgian sulguni cheese. The café has many Georgian dishes available to try out.
A flight from Washington to Moscow averages out to 11 hours air time, so do make it a point to book a comfortable seat for the long haul. BookItBusiness has many last minute business class flights to Moscow.