Madrid
Spain's capital city is cosmopolitan and has a lot of business appeal. The city has come back and brushed itself off after an awful recession, which witnessed business travel to the city continue at a modest steady pace. Now that the world is recovering from the economic crisis, visitors are making their way back to Madrid in very big numbers.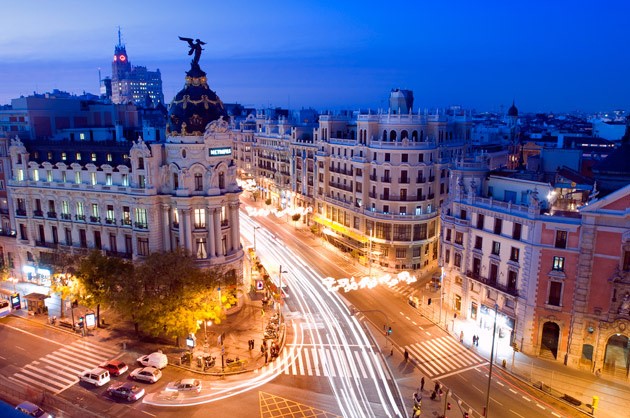 Madrid, like many of Spain's cities, know how to show visitors a good time. Food and drink is reasonably priced and you can party till dawn if you still have any energy left, after a hard day at work. The city has a wide-range of businesses from banking to textiles.
Madrid has managed to stay afloat during the past financial disaster due to its flourishing tourist economy, even though some other regions of Spain have suffered greatly. Many companies based in Madrid such as the World Tourism Organization, Telefonica ( a global broadband and telecommunications provider, Acciona ( an infrastructure and engineering company and oil and gas company Repsol have been a steady rock for Madrid to hold on to while the economic storm was looming.
Madrid is very affordable for groups and tourists in general and according to the International Congress and Convention Association (ICCA) Madrid has come in at fourth place in the world for hosting large global events. Madrid has played host to many large international shows and exhibitions, including The International Classic Auto Trade Show and the World Olive Oil Exhibition.
Many hotels in Madrid offer suitable rooms and facilities for any short or long term business traveller. The amenities that you'll come to expect are speaker phones, wireless Internet, fitness centers and attentive concierge. Most of them are very close to the city center, business and financial companies.
Food is not hard to come by in Madrid and you'll start to wonder how you managed to live without Iberico, which is acorn fed ham and Spanish bacaloa, which is cod. You can finish it all off with some churros dipped into a steaming cup of hot chocolate. If eating local is not your cup of tea, you can always get something to eat at a sushi restaurant or pizzeria. Madrid offers a diverse selection of best-loved fast food chains.
Business class flights to Madrid's Barajas International Airport are easy and quick to find. Its Europe's busiest airport and many long haul business travelers view Madrid as an ideal destination for travel from Europe to North and South America, as well as North Africa.
If you are looking for last minute business flights to Madrid, Bookitbusiness.com can guarantee the lowest fares on business class tickets.