Rome
Rome, the "Eternal City", has so much to do, see and eat that it's a pity to go there just for business. When you book flights to Rome, start to plan what you want to do after business is done for the day.  Rome has loads of UNESCO World Heritage Sites—the Colosseum, the Pantheon and the Sistine Chapel just to name a few, so take this opportunity to pay a visit.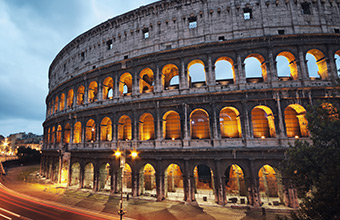 Rome is particularly unique, because the city is basically an outdoor museums with a mix of modern day restaurants and trendy cafes that co-habitant with all the ancient treasures around. When in Rome, you should do as the Romans do; and that means having a cappuccino at the Pantheon at night. Doing this might not make you Roman, but you'll start to feel like one.
Besides scheduling your free time to visit the iconic landmarks in Rome, you should do the following:
Take a relaxing stroll in ancient Rome
Eat a Roman style pizza and have a gelato for dessert.
Drink cappuccinos at many coffee bars.
Go to Vatican City,
Shop or go window shopping at the Monti, an area with innovative fashion boutiques, which was ancient Rome's red light district.
Throw some coins in the Trevi Fountain to ensure good fortune and a return to Rome.
It's no surprise that Rome's main industry is tourism and it accounts for over 50% of its GDP. However, Rome has other significant industries such as finance, banking, insurance, printing, publishing and fashion. Most businesses are accumulated in and around the city center. Rome, just like Milan, has annual trade fairs and huge business conventions. They are usually held in EUR, a modern residential and business district located six kilometres (four miles) south of the city center.
The NH Collection Roma Giustiniano in Rome's neighbouring town of Prati is a perfect way to retreat from the busy Roman life, but not keep too far away from the city's charm. The hotel offers free high speed Internet, business center with Internet access and meeting rooms. Restaurants offering high quality food are all around the city, so you won't struggle for choices. It's highly recommended to order a Negroni, a typical Italian cocktail made with one part gin, one part red vermouth, one part Campari and garnished with an orange peel. A blissful way to end a perfect day in Rome.
When you decide that Rome is the ideal place for your next business trip, BookItBusiness has the cheapest business class flights to Rome just waiting for you to enjoy.