London
Samuel Johnson said it best, "When a man is tired of London, he is tired of life; for there is in London all that life can afford." You'll be spoiled for choice of all the things you can do and see after the money you've saved with your cheap flights to London.
It's a place of leisure and never ending fun for many; and where a lot of business is done and money is made. There are the pretty obvious hot spots for tourists, Big Ben, Buckingham Palace, the London Eye, Madame Tussaud's and the list goes on and on. However, if you are in London for business, don't miss out on the exhibitions and shows. London is a leading, international trade city, where many entrepreneurs grab opportunities with great returns.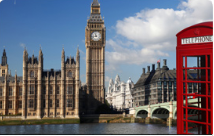 You might feel proud of yourself for booking cheap flights to London, but that is just the first part of any bargain seeking business traveller to London. London is an incredibly expensive city, so pay attention to prices for hotels, flights, meals and transport. The average hotel rates have increased to 11% in 2011 and they continue to climb.
The London Underground charges a cash price of about £4.30 for one single trip, so using an Oyster card for all your trips on public transport is highly recommended. The walk up fare for just a 15 minute ride on the Heathrow Express from the airport to central London has gone up from £15 to £19. Whether you are planning your business trip in spring, summer or when you know there's going to be many people overwhelming the city; don't depend on the old like a dinosaur transportation infrastructure to get you on your meetings on time. Hail a black cab, which you are bound to see roaming the city. The London Underground, or more affectionately known as The Tube, is notorious for delays or taking lengthy alternate routes. So when scheduling your meetings give yourself a buffer of time in between.
London has many hotels on offer like the elegant Corinthia London hotel near Caring Cross and Whitehall that used to accommodate Britain's Ministry of Defence. It's currently furnished with plush interiors and modern touches. If you're after something more edgy or "Harry Potterish" than you'll love the St Pancras Renaissance London. The interior has Gothic arches and grand staircases, much like Hogwarts.
If you do make your way to visit the Queen at Buckingham Palace, take your colleagues to have lunch at Goring Hotel Dining Room and eat like aristocrats. You can enjoy roast beef carved and served from a silver cart at your table and keep your eye open for royals, celebrities and business leaders dining at neighboring tables. When you are off the clock, get to Grand Union Canal and head to Little Venice for a drink or meal at one of the many outdoor cafés available.
Keeping all these facts in mind, it would be best to book the cheapest business class flights to London with BookItBusiness.